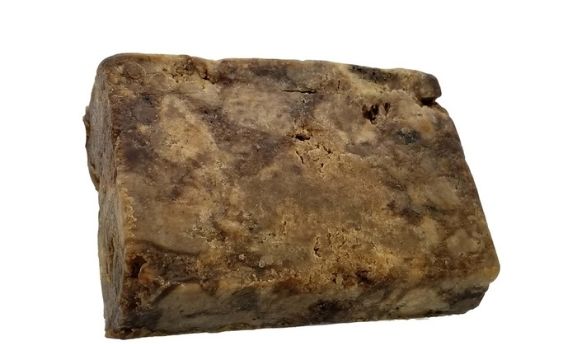 African black soap has become a skin care favorite for a good reason. It is a one size fits all natural approach to healthy skin. It is reported to treat acne, moisturize skin, even skin tone, and soothe irritation.

And unlike traditional synthetic soaps, African black soap is handcrafted using all-natural ingredients free from additives.

Want to know more? Read on to learn what African black soap is, its benefits and how to use it.

What Is African Black Soap?
African black soap, also known as African soap or black soap, is an all-natural multi-purpose cleanser, traditionally handmade using plant-based ingredients. It's free from dye, synthetic fragrance, and has a mild, clean scent with a smooth texture.

Raw Authentic African black soap is made in Ghana, West Africa from plantain skin ash, cocoa pod powder, palm oil, and water. Some additional ingredients include shea butter and cocoa butter for extra hydration.

Benefits Of African Black Soap
African black soap has antibacterial and antimicrobial properties, which helps to reduce inflammation and skin irritations. A related study reported that African black soap is a better option than commercially-made soaps because it showed greater results in healing dry skin, rashes, acne, psoriasis, eczema and razor bumps.

Heals Acne
Users reported that African black soap helped clear their acne within a matter of weeks. It was also noted that it improved their skin texture and tone. The oils and butter in African black soap will remove impurities on the skin, taking away the deep-seated dirt and dead skin cells leaving the skin clearer, fresher and smoother.

Fades Uneven Dark Spots
Since African Black soap is rich in active ingredients like Vitamin E, A, plantain and shea butter, these powerful antioxidants and nutrients help lighten dark spots and protects skin from harmful UV rays that may cause skin discoloration.

Moisturizes Skin
African black soap is also known to hydrate the skin and balance oil production to prevent dryness and leaves the skin feeling soft, supple and healthy.

Safe For Most Types
Another great thing about African black soap is that it's beneficial for just about any skin type – sensitive skin, acne-prone skin, combination skin, and oily skin.

How To Use African Black Soap?
Here's how to properly use African black soap:
1. Wet your face and work the soap into a lather in your hands.
2. Apply the lather into your skin in a circular motion.
3. Rinse thoroughly using warm water and follow up with a toner and moisturizer.

Why Choose African Black Soap?
African black soap is a vitamin-rich cleanser containing antioxidants and antibacterial and anti-inflammatory properties that can heal skin concerns and improve overall skin health. If you want an all-natural, cruelty-free, and nutrient-rich cleanser, African black soap is a must-try.

Will you give African black soap a go? Please share your thoughts and how it worked for you.