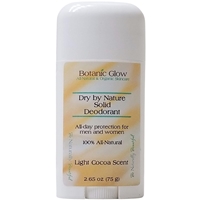 Our unisex natural stick deodorant for men and women will keep you fresh all day without the use of harsh chemicals. Effective even for the most active person.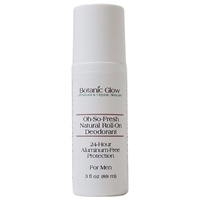 Our 100% all-natural aluminum free roll on deodorant for men is formulated to keep men feeling fresh and clean day after day. Refresh your underarms everyday, nature's way.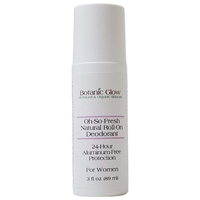 Our aluminum free roll on deodorant for women is formulated with a clean fresh feminine scent.
We all need a deodorant, right? So why not make sure that what's applied to your underarms is an all-natural deodorant that's free of aluminum and harmful ingredients. Not only are our natural deodorants pleasantly fragranced, but they also control odor and moisturize the delicate armpits as well. Underarm sweat can be a major source of embarrassment and stress, so finding a pure, hardworking deodorant is very important. Whether you opt for a stick or a roll-on, you can rest assured that your armpits will remain odor free until the end of each day.

Botanic Glow's utilizes Mother Nature's finest ingredients to bring you natural skincare that works. You won't find nasty, polluting, irritating chemicals in our natural skin care collection – and you'll also be pleased to note that we never test on animals. Botanic Glow simply cannot be beaten on quality – and you won't be too disappointed with our ultra-low prices either!

Our natural deodorants work best when used in combination with our natural body wash and our natural lotion. Take a long, relaxing soak in the bath, exfoliate with our natural body scrub, moisturize with our natural lotion, deodorize with our natural deodorants, and enjoy your healthy smooth, supple skin. Looking for a unique, special gift? Our natural lotion, natural deodorants, and natural body wash can easily be combined to fill a gift basket to gift to someone special.